Can't decide what to choose between Nitto Nomad Grappler and Falken Wildpeak A/T Trail?
Not to worry!
This article will simplify your decision-making process by analyzing their performance differences across various criteria. This way, you can select the tire that best suits your needs.
Nitto Nomad Grappler vs. Falken Wildpeak A/T Trail: Comparison Overview
To begin, let's take a look at the performance of these two tire options in comparison: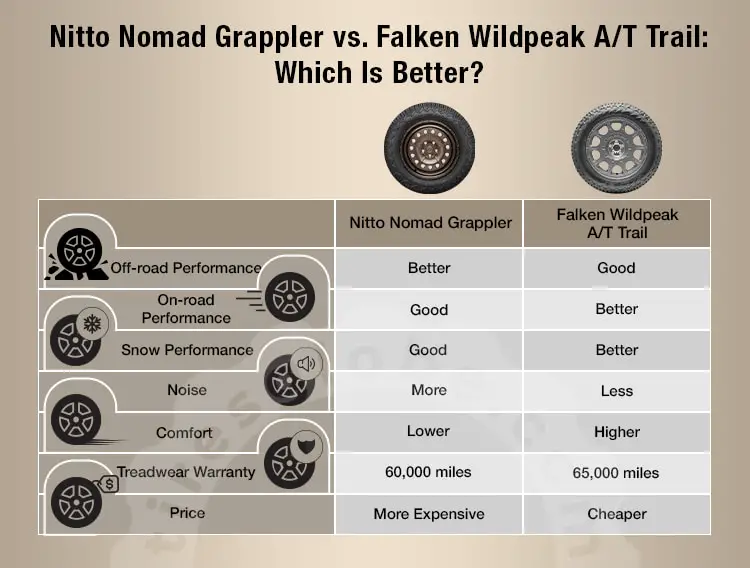 Nitto Nomad Grappler
Falken Wildpeak A/T Trail
Nitto Nomad Grappler vs. Falken Wildpeak A/T Trail: Detailed Comparison
Off-road Performance
The Nitto Nomad and the Falken A/T Trail are particularly well-suited for those who spend most of their time on highways but occasionally venture onto moderate off-road trails. We wouldn't recommend them for frequent, extreme off-road challenges. 
From our experiences, the Nitto Nomad Grappler is better in off-road conditions when compared to the Falken A/T Trail. 
The Nitto Nomad tires, with their staggered sidewall lugs and zigzag lateral grooves providing extra grip and protection, offer great versatility across different terrains. Whether you're navigating through mud, dirt, sugar sand, loose gravel, or forest trails, they offer dependable performance.
What sets it apart is the ability to select from two distinct sidewall patterns for the Nitto Nomad. You can choose the one that appeals to you the most and have it mounted on your wheel facing outward. The dual sidewall design provides an excellent choice for aesthetics.
While the Falken A/T Trail may not be as aggressive and rugged as the Nitto Nomad, the Falken A/T Trail still does a good job and isn't far behind. The tire's durable 2-ply polyester construction and robust upper sidewall features enhance its resilience in off-road conditions. Therefore, the Falken A/T Trail maintains respectable performance on various terrains for casual off-road excursions. 
On-road Performance
As previously mentioned, these tires are suitable for daily on-road driving and perform well on dry and wet surfaces. However, there are slight differences in their performance on these types of pavements. 
On dry roads, the Nitto Nomad excels, offering a sharper steering response compared to the Falken AT Trail. This improvement is attributed to the tapered blocks on the Nomad Grapplers, which enhance traction by increasing tread block rigidity. You can feel more control and comfort on dry surfaces with these Nitto tires. 
Conversely, the Falken A/T Trail demonstrates a better grip on wet roads when compared to the Nitto Nomad. You can expect superior handling and control with the Falken tires due to their 3D Canyon Sipe Technology and silica-based rubber compound. These features create deep biting edges extending down to the casing, enabling solid grip and traction in wet conditions. 
Although each tire shines in its respective category and competes closely on on-road performance, we've observed the Falken A/T Trail the Falken A/T Trail performs slightly better overall.
Snow Performance
Both the Nitto Nomad and Falken A/T Trail come with a 3-peak Mountain Snowflake rating, which means they are well-suited for tackling moderate to severe winter weather conditions. Their excellent traction capabilities ensure you can easily navigate through snow-covered roads. 
However, the Falken A/T Trail has a little edge over the Nitto Nomad if you're talking deep snow. Thanks to its 3D Canyon Sipe Technology and increased tread depth, it offers better traction for conquering deep snow conditions. 
So, though both of these tires perform well in winter conditions, the Falken A/T Trail is a slightly superior choice.
Noise & Comfort 
These tires provide a comfortable and smooth driving experience across various conditions. However, when it comes to road noise, there's a slight difference. 
The Falken A/T Trail appears to be quieter than the Nitto Nomad Grappler. The Nitto tires generate a bit more noise, especially at lower speeds, such as below 40 miles per hour, and this noise becomes more pronounced when under braking.
Treadwear Warranty
The Nitto Nomad Grappler and the Falken Wildpeak A/T Trail have impressive treadwear warranties.
The Nitto Nomad provides a 60,000-mile treadwear warranty, while the Falken Wildpeak boasts an even more extended warranty, covering up to 65,000 miles.
Price
Of the two tire options, the Wildpeak A/T Trail is more budget-friendly than the Nomad Grappler. 
The Wildpeak A/T Trail tires cost around $180 to $295 each, depending on your chosen tire size. In contrast, the Nomad Grappler is priced between roughly $153.00 and $268 per tire, with the price also varying based on tire size.
Final Recommendations
Both tires are solid choices, but the Falken Wildpeak A/T Trail has a slight overall advantage. In particular, if wet-road grip, deep-snow performance, and budget-friendliness are your priorities, the Falken Wildpeak A/T Trail is a better option. 
Nitto Nomad Grappler
Meanwhile, if you prioritize off-road versatility and dry-road performance, the Nitto Nomad Grappler might be your choice.
Falken Wildpeak A/T Trail
Read more: Toyo Open Country AT3 vs. Falken Wildpeak AT3W: Which Is Better?