Drivers are often caught between choosing which to opt for between the BFG KM3, KO2, and STT Pro model tires. After all, they have broad similarities and strengths. If you are that driver who needs advice to make your decision, you have come to the right place.
When making these model tires, manufacturers consider the importance of striking a balance between on-road, off-road performance and other factors. In this article, we are going to consider how well the manufacturers succeeded in achieving this balance. Also, we would pick which one out of the BFG KM3, KO2, and STT Pro comes exceptionally on top.
That said, let us begin!
KM3 vs. KO2 vs. STT Pro: Comparison Table
You should understand each model's major performance features and unique qualities before selecting which tire to buy. Besides, such knowledge is crucial when dealing with advanced models like the BFG KM3, BFG KO2, and Cooper STT Pro.
So it is vital you know which ones have superior off-road performance, on-road performance, noise level, and so on. Now, here's a side-by-side comparison of the tires: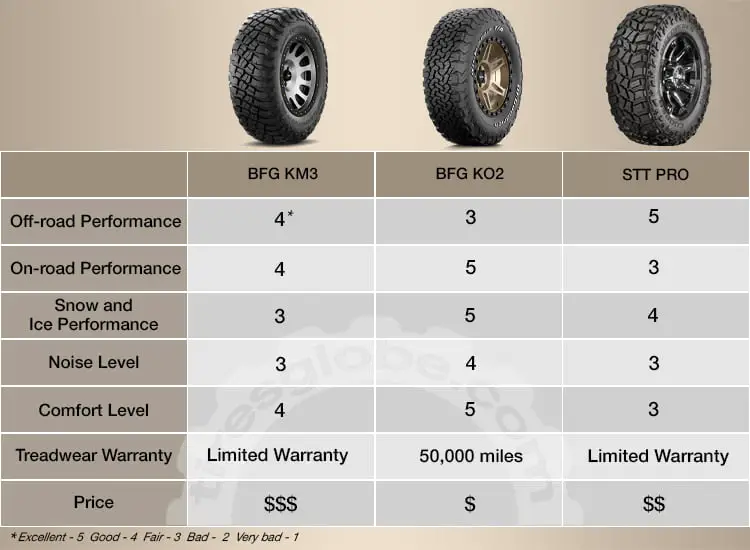 Also Great
Best for On-road & Snow
Best For Off-road
---
KM3 vs. KO2 vs. STT Pro: Detailed Analysis
Off-road performance
The winner: STT Pro
The Discoverer STT PRO is a mud-terrain tire specially crafted to meet the rigors of navigating off-road trips. Its excellent grip and bite against the mud put it well ahead of its counterparts.
One strong reason for this is Armor-Tek 3 Carcass Protection which provides improved protection against impact damages. Also, its traction is enhanced geometrically from its specially designed cleats.
The BFG KM3 comes a close second to STT PRO in this regard. However, it is equally a mud-terrain tire and has the advantage of thick grooves, making mud removal easy and preventing the tires from sticking.
Although the BFG KO2 is not as solid as its competitors, it has a fair, competitive strength. The KO2 model tire is particularly smooth for acceleration and navigating corners. However, its smaller dense grooves make it difficult for mud and dirt to escape.
---
On-road performance
The winner: BFG KO2
The BFG KO2 is undefeated when it comes to on-road performance. This win is owed to its exceptional Core-Gard technology and specially formulated tread rubber.
These features give the tire exceptional direction abilities and very good steering feedback. Also, the special tread rubber gives the tires extra grip against the highway and directs the overall smoothness of the drive.
Just like dry roads, BFG KO2 is superior to its counterparts on wet roads. This superiority is due to the hydroplaning resistance of BFG KO2 tires. With its advanced grooves, it provides space for water to fill up. So it makes the driver maintain control over wet distances with great traction.
However, one drawback of KO2 is that it is not good on dry roads when its tread wears out.
Although the BFG KM3 is specially designed for muddy terrains, it also exhibits highway quality abilities. It provides cornering steadiness and top-notch steering reaction on the road, especially for a tire designed for off-road trips.
However, the BFG KM3 pales in comparison to BFG KO2 in terms of wet traction. Also, due to its predominance for off-road journeys, it has no provisions for hydroplaning, which is a strict requirement for on-road tires.
Behind both BFG KO2 and BFG KM3, the STT PRO does not perform exceptionally well when it comes to on-road navigation. Being more suited for off-road journeys, it has less traction than the others.
---
Snow & Ice performance
The winner: BFG KO2
True to its all-terrain description, the BFG KO2 shows impressive results over snow and ice. It has earned the three-peak mountain snowflake (3PMSF) symbol due to its ability in snowy and icy areas. In addition, the KO2's hydroplaning resistance offers drivers outstanding wet traction.
Both the BFG KM3 and STT Pro do not grip like the BFG KO2 under snowy or wet conditions. Though the BFG KM3 is equally designed for extreme conditions, it fails to beat the KO2 model under this category.
---
Noise level
The winner: BFG KO2 (Least Noise)
As expected, BFG KO2 tops the charts in terms of noise levels. As an all-terrain tire, it is made with fewer spaces in its tire patterns. Unlike BFG KM3 and STT PRO, the patterns do not need much grip for off-road tasks. As a result, the BFG KO2 creates a smooth and almost noiseless drive.
Here, our worst performer is the STT PRO which emits awful noises during on-road journeys. Maybe due to its specific creation for off-road duty. However, the noise can be overlooked where the need arises, or even with a bit of good music.
---
Comfort level
The winner: BFG KO2
BFG is known for prioritizing driving comfort and relaxation. So there is quite a tough battle between the BFG KO2 and KM3 model tires. Notably, the KM3 has improved tread design and massive grooves that cause less friction, especially during off-road trips. However, the KO2 slightly wins this battle due to its optimized traction, which offers high-quality rides with little noise. KO2 drivers can easily navigate even the most rugged of terrains as if on smooth surfaces.
Both the BFG KM3 and STT Pro take second and third positions in that order. However, the STT Pro is the least performer as it offers less comfort due to its poor noise reduction.
---
Treadwear Warranty
The winner: BFG KO2
Thanks to Cord-Gard technology and specially produced tread rubber, the KO2 again wins this round. The blend of these materials makes the tire a perfectly durable tire. Also, the materials prevent wear and tear and give the tire a lengthy shelf life.
In contrast, both the STT PRO and BFG KM3 face some serious treadwear issues. Though the thick sidewalls of the KM3 are made to withstand rough terrains, the trims are too soft and wear off more easily, making them less durable.
Also, while the STT PRO and BFG KM3 have limited warranties, the BFG KO2 has a warranty of up to 50,000 miles. This wider warranty coverage further supports the conclusion that KO2 is superior and more durable than the other two tires.
---
Price
The winner: BFG KO2
The BFG KO2 with starting price of $190 is the most pocket-friendly investment if we are taking wear and tear into consideration. It is also a more stable investment and is not as easily worn out like the rest.
The BFG KO2 is cheaper than the BFG KM3 and STT PRO. While the price of STT PRO begins from $208, that of BFG KM3 is $212 .So considering its versatility, the KO2 may be the perfect choice for your car.
---
Final Thoughts
Also Great
Best for On-road & Snow
Best For Off-road
As a driver, you need to consider several crucial features when deciding on the perfect tires to buy, from traction to noise level, comfort, and warranty. If your preference is a model tire with exceptional off-road adventures, then the STT Pro is for you. However, if you are looking for a tire with balanced compatibility that is comfortable during both on-road and off-road trips, then you may want to pay extra to get the BFG KM3.
Ultimately, the all-terrain BFG KO2 stands head and shoulders above the STT Pro and BFG KM3 as the overall top performer. The KO2 easily outperforms the KM3 and STT Pro models under on-road trips and snowy conditions. It is also the best option if you consider other crucial factors like treadwear warranty, comfort, and price.
Read more: General Grabber ATX vs. Falken Wildpeak AT3W vs. BFG KO2
Read more: Toyo Open Country AT3 vs. AT2 vs. Falken Wildpeak AT3W: Plan To Buy Tires? Read This Comparison First!