No one likes getting stuck in the backcountry because their tires weren't up to snuff.
Luckily, tires like the Interco Swamp Lite tires are capable of tackling just about anything on the trail by providing consistent balance and excellent tracking.
If you enjoy mud-slinging, off-roading, or are just looking for something that handles hard-packed roads with ease, the Interco Swamp Lite tire is the perfect fit for your quad. Read on to find out more about the specifications of this super aggressively treaded tire.
Interco Swamp Lite Tire: An Overview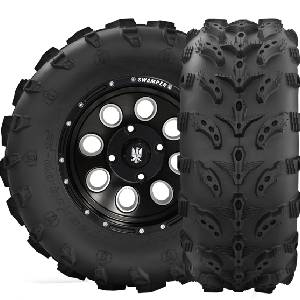 Interco Lite Swamp
All-terrain vehicles (ATVs) need performance tires that handle the rigors of all trail conditions and roads. A great way of getting a tire's snapshot that meets performance criteria is by looking at the overview chart of its performance characteristics.
From 1 to 5, this chart has the general rating of each of the fundamental features that these quad tires deliver. The rest of the article will aim to provide a detailed analysis of this overview.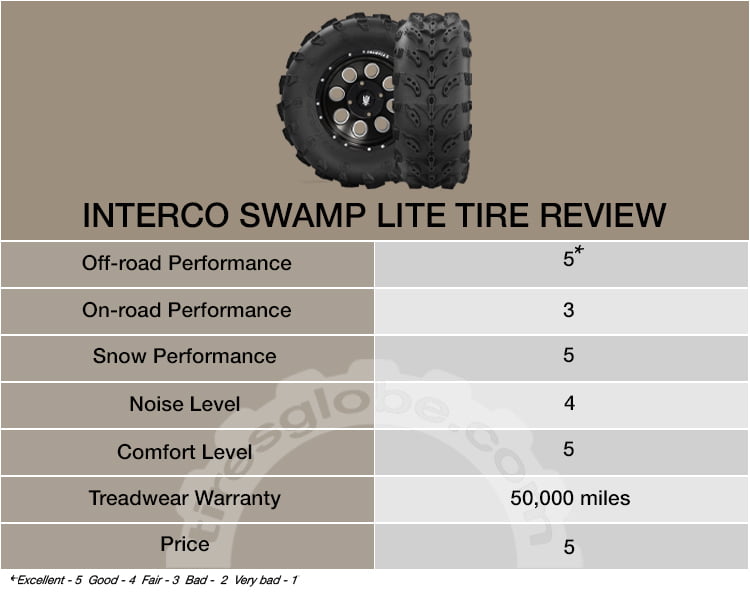 ---
Interco Swamp Lite Tire: Detailed Analysis
When it comes to off-road quad tires proficient in tearing up any road material, the knobby rubber of the Interco Swamp Lite tires is an elite choice. These aggressive and intimidating tires may wear out sooner than other ATV tires. However, they have excellent performance in most categories. Below are some of the detailed specs of the Interco Swamp Lite ATV tires analyzed for their performance capabilities.
Interco Swamp Lite ATV tires - Best For Off-road And Snow Performance
Overall, Interco Swamp Lite tires are a reliable choice for drivers interested in tearing up mud, snow, and off-road trails. At the same time, the treadwear warranty should take care of the poor pavement performance.
Off-Road Performance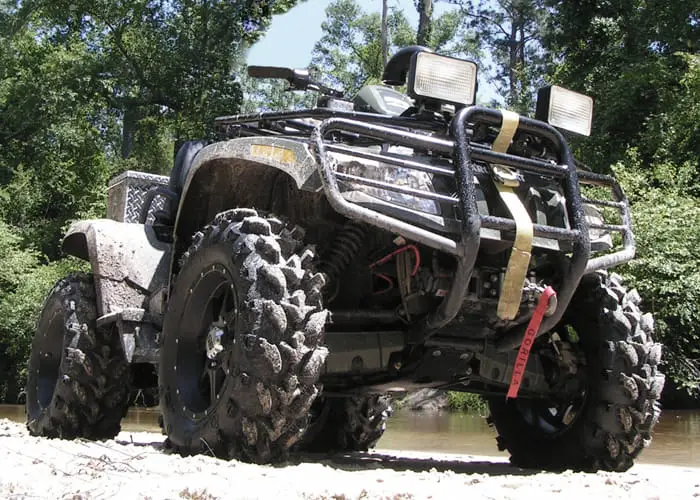 Since Interco Swamp Lite Tires consist of 6-ply rating cuts in their treads, they perform pretty well in off-road circumstances. Also, the multi-thread design makes these ATV tires great for handling mud. It does self-cleaning while riding by slinging off excess mud, so your tires won't cake up with mud. Moreover, the powerfully designed side-ruts of the tires allow for excellent handling and drifting even in sand or gravel terrain. The Interco Swamp Lite tires disturb minimal dirt on hardpack trails while getting you from point A to point B.
Overall, the off-road performance on trails is excellent. These ATV tires get made with trails in mind for all weather conditions. Their lightweight design with multiple knobby treads and self-cleaning sipes make them an ideal choice for trails with snow, ice, mud, or any other kind of material.
However, one of the downfalls of these tires is that the self-cleaning tread is also not great for extremely deep mud. The tire treads work wonderfully up to a point. But once the mud becomes too thick, the tires tend to sink instead of tearing a path through.
Reversing in these quad tires is much easier than other types of quad tires. The stepped-down tread design provides a better grip on the road because of the many tread edges constantly in contact with the road. These edges help with backing up and make reversing much more precise. This step-down tread design also adds some extra lug strength.
---
On-Road Performance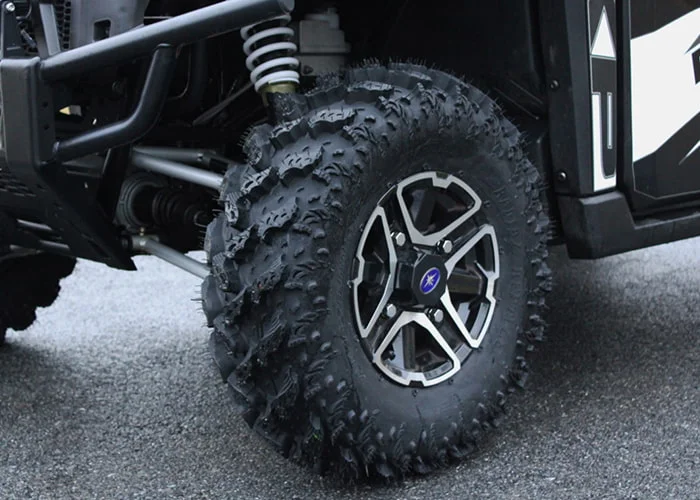 This is the biggest problem for these ATV tires because of the tread size and how it grips and stretches to the pavement. The large rubber knobs on the tread flex and gives limited responsiveness on the pavement. They also won't have good performance until driven for a while and smoothed out.
---
Snow Performance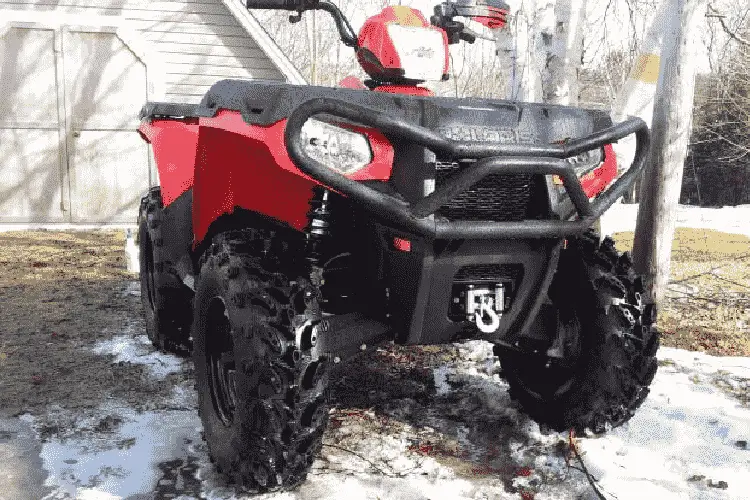 The Interco Swamp Lite ATV tires are one of the best for snow performance due to the self-cleaning sipes and multi-thread design. These tires are built for deep snow and have long knobby treads that provide excellent traction. Handling performance is better in the snow because of the multi-tiered tread design. This allows for more tread and tire surface area in contact with the snowy trail at one time. Also, the self-cleaning sipes with a wide tread design produce optimal handling even around turns and over bumpy terrain.
---
Comfort Level
The soft tread of these ATV tires serves riders with an enjoyable and comfortable ride. The treads stretch, bend to the obstacles and bump in the road, acting almost like mini suspension under the vehicle's weight. The tire treads are not rigid, so the give provides lasting comfort in any road conditions.
Another comfort factor is the overall feel and traction. The ridge keeps the tires from slipping on loose trails. The strong edge of the treads and ridge adds more comfort while driving in the backcountry over rough terrain and around turns. Also, the incredible balance and overall tracking offer drivers a smoother ride through rough terrain.
However, the blacktop and gravel on some trails might feel slicker and handle worse than other ATV tires. Sliding on gravel is not comfortable and takes away from the enjoyment of riding an ATV with these tires.
---
Noise Level
The noise level of these ATV tires is surprisingly low. The deep and multiple treaded sipes only produce a low hum on trails and roads. Drivers might notice more humming noise on smaller ATVs which are louder than a standard tire delivers.
---
Treadwear Warranty
The tread warranty on these quad tires is decent if you only plan on riding trails with them. The tread is thick and deep, so it will take a long time for them to wear out on trails. However, as the tread smooths down the tread quickly on pavement, you may find that the warranty is more useful if you plan on mainly driving on paved roads.
Because of the quick treadwear on certain road types, the warranty is a welcome addition for the Interco Swamp Lite tire customers. With 50,000-mile warranty, this is considered an industry-standard. It will set you and your ATV up for miles of fun and adventure without worrying about tires that may wear a little quicker than others.
---
Price
The great compromise between balance and tracking makes these ATV tires an economical choice with excellent value.
They come from size 22 x 11 x 9 to 29.5 x 10 x 12, and cost you around $88 to $110.
---
Conclusion
These quad tires look mean and are aggressive the first time you drive them, especially if you have mainly driven standard ATV tires. However, the 6-ply rating cuts are also highly durable and puncture-resistant, and the wear on the tread is minimal when used only on muddy, snowy, or gravel trails. 
Overall, these are a reliable choice for drivers interested in tearing up mud, snow, and off-road trails. At the same time, the treadwear warranty should take care of the poor pavement performance.
Read more: Rydanz Roadster R02 Tire Review: Should You Buy It?