Are you having difficulty deciding which is better between the hyper dip and plasti dip? If yes, you're not alone as several car owners also face this challenge.
But don't worry anymore because we've got you covered!
This article will guide you through a side-by-side comparison between the hyper dip and plasti dip. Besides, we also recommend which is better between the two.
Hyper Dip vs. Plasti Dip: What Are They?
What Is Hyper Dip?
Amongst peelable aerosol paints, the hyper dip is the latest technology. It's perfect for emblems, wheels, mirrors, etc.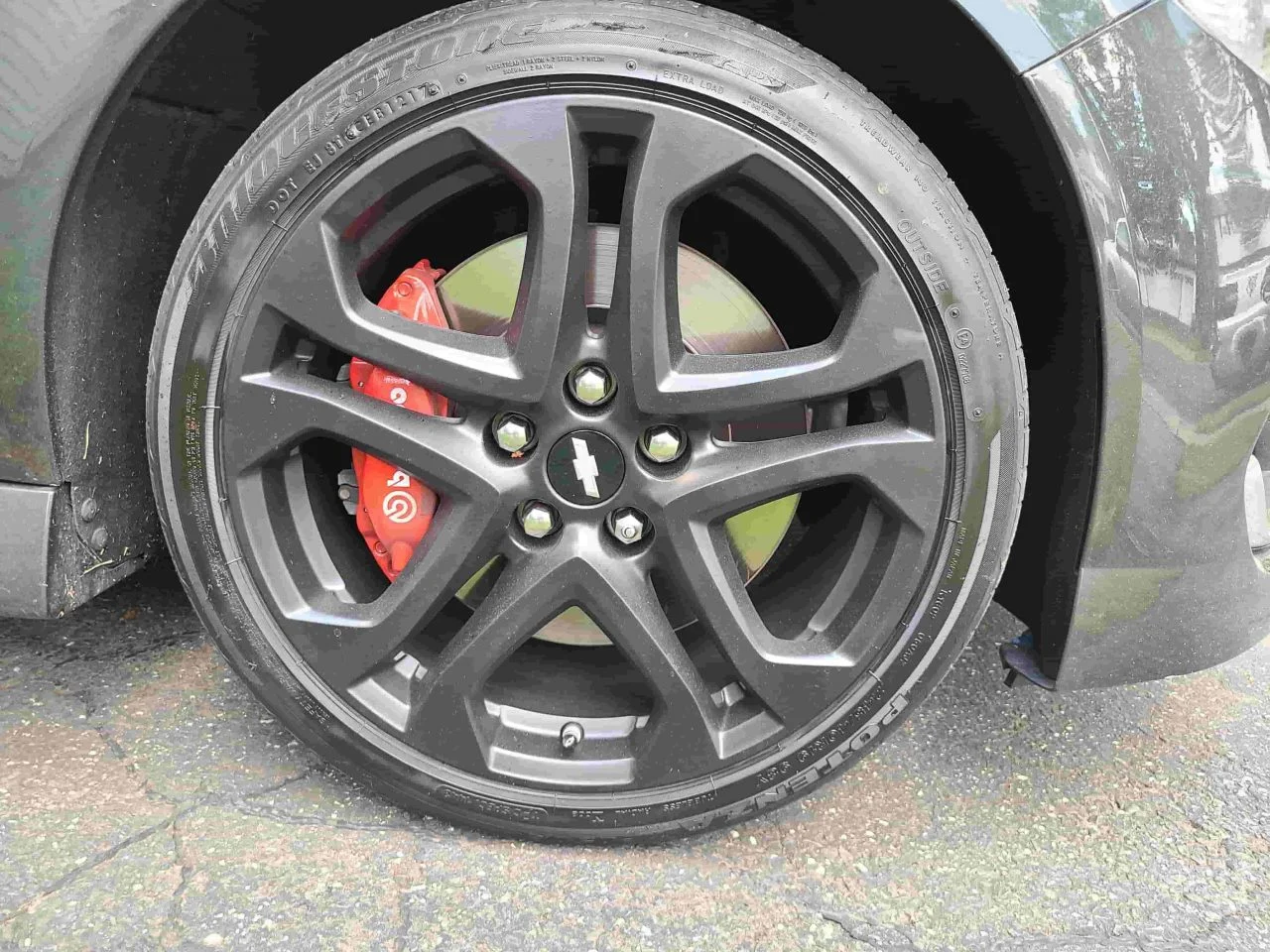 ---
User Experience:
"Was on the fence about plastidipping the stock 17 wheel black but things like heating up the cans and metalizer/glossifier were holding me back. There is a new product called Hyper Dip that is made for automotive applications and only requires the dip. The kit comes with 5 cans, wheel cleaner, cream to make the dip easy to peel off the tires, microfiber cloth and 4 13 gallon trash bags (to cover rotors if you dip without removing wheels). I removed the wheels (not my style to do on the car) and followed the instructions of 2 light coats first then heavy until the cans run out. Also changed the center caps to black with silver bow ties and new valve stem caps of course. The entire project was just over $100 and definitely changed the look (but now other silver things are standing out)." ([email protected]$ – https://www.ssforums.com/threads/hyper-dip.196122/)
---
What Is Plasti Dip?   
Plasti dip is a multipurpose air dry PVC-based specialty paint. It can be applied by dipping, spraying, or brushing.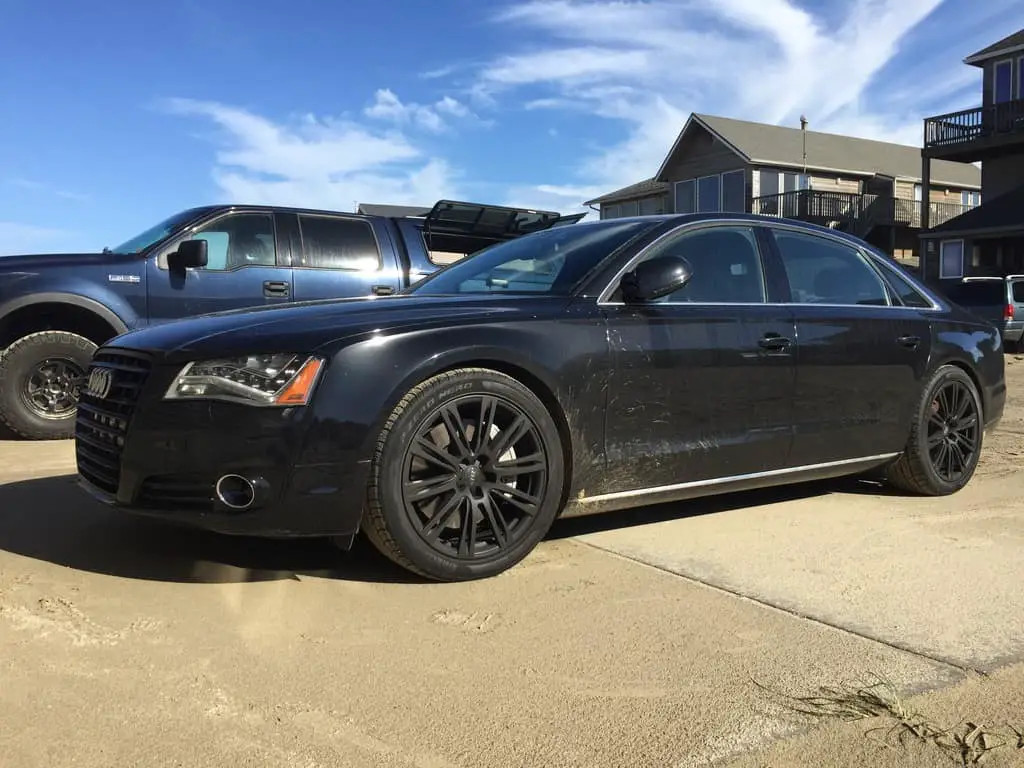 ---
User Experience:
+ "I plastidipped my D4 wheels, now they've been through 4 carwashes and still look decent." (Asiparks – https://www.audiworld.com/forums/a8-s8-d3-platform-discussion-60/plasti-dip-wheels-2891410/page2/)
+ "I applied Plastic dip on my wheels. I really like the look. Easy to apply, but after two months it started to peel so I removed it all. Came off easy and clean. Great stuff if it is was tougher. I applied it thick, but I think the key is having a rough and clean surface prep. I would clean the wheels better the next time, but doubt I would go to the extreme of roughing the surface. Can't go back to the original look if you scratch the surface. It is cheap and takes time. If you don't like it you simply peel off. I applied to my rear fascia and been there no issues for ten months." (djkyky – https://www.audiworld.com/forums/a8-s8-d3-platform-discussion-60/plasti-dip-wheels-2891410/)
---
 Hyper Dip vs. Plasti Dip: What Are The Differences?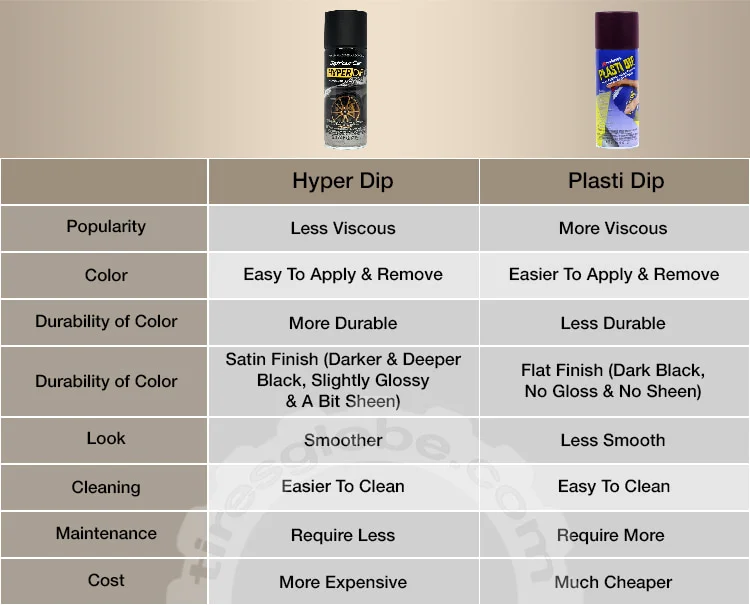 Material
Let's start by comparing the viscosity of these paints. The hyper dip is less viscous, implying it is not as thick as the plasti dip. Therefore, it doesn't accumulate lots of brake dust. 
Unlike the hyper dip, the plasti dip is more viscous. That's the reason why it tends to cake up more brake dust than hyper dip .
Application Process
For the application process, plasti dip is easier to apply and requires less expertise. With the plasti dip, you don't have to worry about how light your first spray/coat is or how fast your movements should be. Instead, you start with a heavy initial coat. Besides, you will use fewer cans when using plasti dip.
This is different from the hyper dip. You need to be more careful when applying the hyper dip. Also, the hyper dip requires much faster movements while spraying. If you spray it like the way you do with a plasti dip, it will start to run on your wheel. This is due to its less viscous nature. As for their ease of removal, plasti dip will come off easier than hyper dip.
Durability
Before you use either of these products to spray your wheels, it's important to know how long each of them will last. 
Hyper dip is said to be more durable than plasti dip. Therefore, when you apply the hyper dip on your wheels, the black color tends to remain longer.
However, if you are looking for a short-term finish, you should go for plasti dip. It's perfect for vehicle owner who like experimenting with several colors. 
Color Finish
Hyper dip and plasti dip might look the same from a distance, making people think they come in the same color finish. But that's not true. Hyper dip has a typical satin black finish. It features a darker shade of black that is slightly glossy and has a bit of sheen. Meanwhile, the plasti dip' color finish is described as a matte black finish. It is dark black but flat and has no gloss or sheen.
Look                                                                                      
Recall that the hyper dip is less viscous than plasti dip, implying that it's not that thick and tacky. Therefore, this plays a part in its look and feel, giving hyper dip a much smoother look. However, unlike hyper dip, plasti dip is not a lot smooth and has a rubbery feel. After all, it is PVC-based.
Cleaning & Maintenance
There's nothing that irritates most car owners like a dirty wheel. That is why when deciding between hyper dip and plasti dip, you should know what maintaining them is like. The hyper dip is easier to clean and will require less maintenance between the two. This doesn't come as a shock, considering that hyper dip uses the latest technology for aerosol paints. 
A finish with plasti dip will require more cleaning in-between use. As stated earlier, plasti dip will accumulate more brake dust over time. Keep in mind that you should avoid getting gasoline on your plasti dip finish. Why? Because it is a solvent-based coating; thus, it won't hold up to gas. By implication, this means that with plasti dip, you should be careful when filling your tank.
Cost
A can of plasti dip is cheaper than a can of hyper dip. It has a price of around $16. As for a can of hyper dip, it costs about $20. Besides, you will also use more cans with hyper dip. Therefore, if you're on a budget, the plasti dip should be your choice. 
Hyper Dip vs. Plasti Dip: Which Is Better?
It's time to choose the better one between hyper dip and plasti dip. We base our answer on the information mentioned in the comparison above and on users' experiences. Without a doubt, hyper dip is the better between the two, and with good reason. It is more durable, easier to maintain/clean, and smoother. It's also more eye-catching thanks to its sheen. 
However, if you don't want to spend extra money on the hyper dip and are comfortable with plasti dip, keep using it as this product also gets the job done. 
Conclusion
After reading this article, you now know what suits you best between hyper dip and plasti dip.
We'll just leave you with some final advice. Do not mix hyper dip and plasti dip as the result won't be nice. Lastly, always wear a mask when spraying any of these two products to avoid breathing them in. That way, you can give your wheels the perfect finish while staying safe.
Read more: Satin Black vs. Matte Black vs. Gloss Black Wheels: What Are The Differences?
Read more: Tire Sealant For Slow Leak [Best Products 2022 Review]