When searching for the best tire sizes for your 18×9.5 wheels, there's no limit to the number of online resources you can consult. However, you can quickly get overwhelmed with too much information and get frustrated with the process.
To help you, we have created a concise guide explaining the ideal tire sizes for 18×9.5 rims. We also answer questions owners like you frequently ask while preparing to buy tires for this rim.
What Does A 18×9.5 Wheel mean?
An "18×9.5" wheel has a diameter of 18 inches and a width of 9.5 inches. Wheel makers often represent the total diameter and wheel width of a rim using the first and second numbers of the sizing pattern respectively.
---
What Tire Sizes Fit An 18×9.5 Wheel?
If you just bought a car with 18×9.5 rims, you'll want correct size tires that won't bulge or stretch. There is no specific tire size for an 18×9.5 rim, but you can select from a range of sizes.
To understand what tires work best with 18×9.5 rims, we evaluated reports from users. Our research has revealed the following as the best tire sizes for a 18×9.5 wheel:
255/35 R18
265/35 R18
265/40 R18
275/35 R18
285/30 R18
285/35 R18
295/35 R18
We understand that tire sizing can be difficult to understand, so here's a guide to decoding the sizing pattern on your tire:
The first number in the sequence is the tire's total width measured in millimeters
The second number represents the sidewall height as a percentage of the tire width
The last number represents the diameter of the recommended wheel for a tire (measured in inches)
For example, if you buy a 255/35 R18 tire, the measurements would be: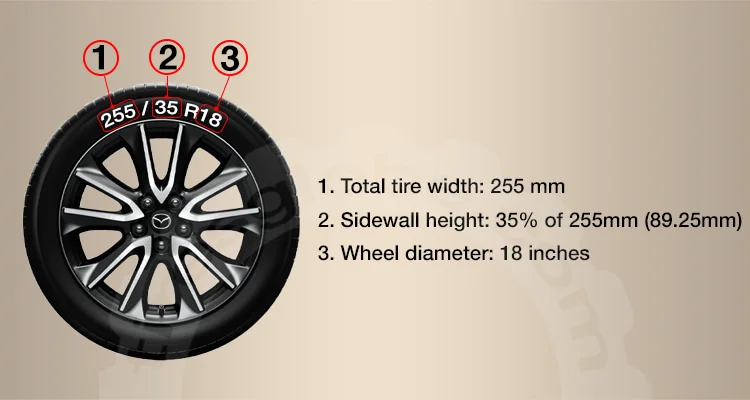 ---
What Is The Best Tire Size For A 18×9.5 Wheel?
As explained earlier, there is no perfect tire size for 18×9.5 wheels. Each owner's individual experience with these wheels is subjective, meaning you cannot depend on them to know the best tire for your 18×9.5 rim. However, I still recommend 265/35-18 or 265/40-18.
That said, what is best for your vehicle depends on your budget. Bigger tires cost more than smaller tires, so you have to factor in price while buying tires.
Your needs and tastes also determine what the best size is for you. Some owners run small tires on their wheels because they want a stiffer sidewall. Meanwhile, some owners want bigger tires since these give vehicles an attention-grabbing profile. Evaluate your needs and tastes carefully and select a tire that matches both criteria.
---
What Is The Widest Tire For An 18×9.5 Wheel?
Most owners suggest that the "best" widest tire compatible with the 18×9.5 wheel is the 275/35-18.
However, trying to install a bigger tire on your vehicle is likely to lead to the following problems:
Problematic handling and cornering
Excessive noise production
Subpar ride quality
Abnormal tire wear
---
What Is The Smallest Tire You Can Fit On A 18×9.5 Wheel?
If you enjoy using your vehicle, the "best" smallest tire size you should run on a 18×9.5 rim is a 255/35-18.
Those who have used smaller tires (245s and 235s) complain of the following problems:
The rim that sticks out past the tires has a stretched look
The tires rub against the fender
It is best to stick with a 255 model or a bigger size when buying tires for your new rims to avoid problems.
---
Conclusion
Picking the right size tire for your 18×9.5 rim is vital if you want to get more out of your driving experience. With the information from this article, you should be able to select the best size when shopping for tires for 18×9.5 wheels.
The information in this article results from detailed research, so you can use it to guide your buying decisions. If, for any reason, you need professional advice on what tires to buy, talk to your local dealer or technician.
Happy driving!
Read more: 18×8.5 Tire Size: What Fits This Rim?
Read more: 265 vs. 275 vs. 285 Tires: Are They Interchangeable?