Are you looking for the tire sizes that fit a 15×8 rim? If yes, this article is for you!
The best tire size recommended for a 15×8 rim is the P 205/50 R15. They have accommodations to fit a 15-inch diameter rim suitably.
We'll tell you more about what tire sizes are compatible with this rim size and also recommend some great tires to get. Besides, we will answer some frequently asked questions regarding 15×8 rim.
So, keep reading to learn more.
What Is A 15×8 Rim?
To know what a 15×8 rim is, we first have to understand what those measurements signify. The first digits show the diameter, and the second indicates the width, both in inches. You could also take the more significant number as the diameter and the lesser ones as the width. So, a 15×8 rim means that the diameter is 15 inches and the width of the rim is 8 inches.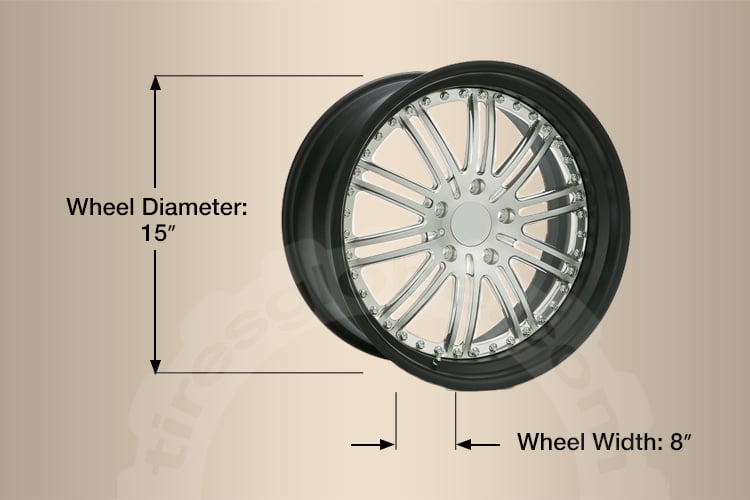 Accordingly, accessing tires that fit these rim measurements entails a lot. First, you have to know the diameter and width specifications to aid in comparison with different tire size variations. Then, you should also know that smaller and larger tire sizes can be available for 15×8 rims.
Interestingly, most cars have wheels between 14 inches to 19 inches in diameter. As such, at diameter 15, this rim is pretty standard for sedans and classic cars. Meanwhile, the SUVs and luxury vehicles tend to have giant-sized wheels.
---
What Tire Size Fits A 15×8 Wheel?
Various tire sizes correctly fit a 15×8 inch rim. Our research will show you some of the most regular tire sizes below. These tire sizes are collected from reports from users who have experienced them before:
P 165/45 R15
P 195/40 R15
P 205/40 R15
P 165/50 R15
P 195/45 R15
P 205/45 R15
P 155/60 R15
P 175/55 R15
P 195/50 R15
P 225/45 R15
P 205/50 R15
P 195/55 R15
P 195/60 R15
P 185/65 R15
P 195/65 R15
P 215/70 R15
We understand that tire sizing can be difficult to understand, so here's a guide to decoding the sizing pattern on your tire:
The first number in the sequence is the tire's total width measured in millimeters
The second number represents the sidewall height as a percentage of the tire width
The last number represents the diameter of the recommended wheel for a tire (measured in inches)
For example, if you buy a 165/45 R15 tire, the measurements would be: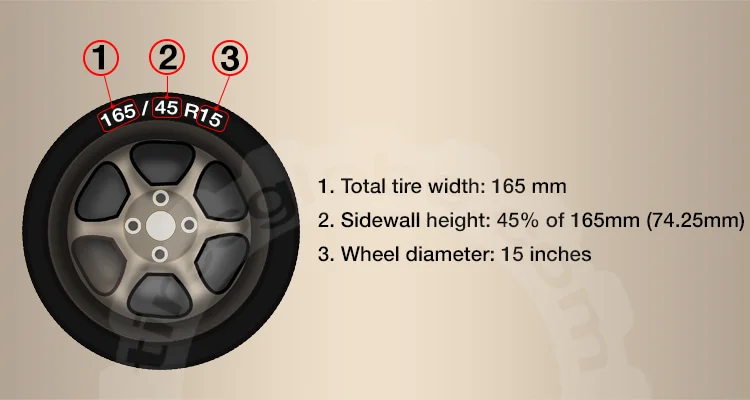 ---
What Is the Best Tire Size For a 15×8 Rim?
The closest sizes to the 15×8 wheel are the P 205/50 R15 and the 195/50 R15.
The best tire size recommended for a 15×8 rim is the P 205/50 R15. They have accommodations to fit a 15-inch diameter rim suitably.
In terms of P 195/50 R15 tire sizes, they are functional and work for different car brands like KIA, Hyundai, Mazda, Chevrolet, Nissan, and many more.
---
What Is The Biggest Tire For A 15×8 Wheel?
Every car owner wants that functional and sleek look on their vehicle. For many, this is generally achieved by using a wider tire on the rear.
As such, statistics provided by various users show that a 225/45 R15 tire is the "recommended" largest tire that can be fixed on 15×8 wide rim as long as you have the right backspace. Although these tires can look overly fitted and seem too wide when fixed, they fit nicely and run functionally without any issues.
---
What Is The Smallest Tire On 15×8 Inch Rim?
Practically, the smallest tire sizes that fit on the 15×8 wheels are P 155/60 R15. We recommend you not go with anything tire size narrower than P 155/60 R15. However, when used, the tire's sidewall will be stretched out a bit over the edge.
---
FAQs
Here are some popular questions and answers about the 15×8 rim.
Will 15×8 fit Miata?
Yes. 15×8 rims fit the Miata wheels. Miata is a German word given to a Mazda sports car. It uses the 6UL wheels with 36mm offset and can accommodate wide sizes of up to 225/45 R15 on an NB or NA Miata. NA signifies the model from 1989 to 1997. In contrast, the NB models go from 1998 to 2005.
What's the offset for 15×8 Miata?
The offset of the 15×8 Matia is about 40mm. Generally, high offsets are good for your Miata irrespective of its model or generation. Also, offsets between 38mm to 45mm help you prevent issues with your fender lip rub.
Will 235/75 R15 fit on a 15×8 rim?
Yes, it will fit properly and work well for the wheel. However, it depends on what you're looking for in your tires. Some 235's looked disappointing on a 15×8 rim. Also, they could be running on the part of the sidewall when driving. In contrast, they have also looked comfortable on some others.
---
Conclusion
Your tire size choices should be one to be serious about because it defines the overall working condition of your vehicle. The wrong tire can cause other parts of the car to get damaged after a while. It is best to understand what tire size is right for you and your car to make the best decision when choosing a rim.
First, placing good tires on your 15×8 rim gives your car a whole new outlook. Then, it also makes the vehicle stands out and becomes even more sleek and comfortable to drive. Mostly, larger tires are placed in the rear and smaller tires up front. This improves handling and provides your car with a sporty feel.
Lastly, before fixing the tires to your vehicle, check the width and diameter to avoid getting the wrong measurements. Also, purchase them from well-known and trusted dealers to ensure you get the proper value for your money. Finally, knowing your tires and rims is essential for buying the correct sizes. If you're unsure of what tires fit your rim, get a professional to help you arrive at a decision.
Read more: 19×9.5 Tire Size: What Fits This Rim?